CopyRIGHT◎Sichuan Tingjiang New Material, Inc. located
Factory Add.:Section Zhaoyang AV.,North Area of Economic Development Zone, Shifang,Sichuan Tel:+86-838-8520024 Fax::+86-838-8520004 Zip Code:618412 Headquarters: Haiwei Section of Guangzhu Highway, Shunde District, Foshan, Guangdong Zip Code:528305
Sale tel:+86-0757-28392207 28399088-202 Fax:+86-757-28396980 E-mail:lizs@dymatic.com 粤ICP备2021115083号  Powered by : 300.cn
Listed in "Catalog of Sichuan Famous and Excellent Products Catalog"
To implement the "strong industrial base project implementation guide", make full use of market mechanisms to promote the whole province's industrial enterprise to increase the variety and quality of
After preliminary review and recommendation (those who have been subject to administrative punishment in environmental protection, safety and quality in recent two years are not recommended), industry experts are organized to review them one by one, and the products of our company, "Leather Cleaner New Materials", are confirmed to be included in the "2020 Sichuan Famous and Excellent Products Catalog" for the second time by means of celestial eye inspection and other retrieval methods.
This honor fully affirmed our company "leather clean new material" in the market position, enhanced the enterprise product image, to the market competitiveness, the market share has played a good brand publicity. We need to continue to work hard to control product quality, improve product quality, and develop better and more suitable products for customers, more environmentally friendly green products, to seize a larger market.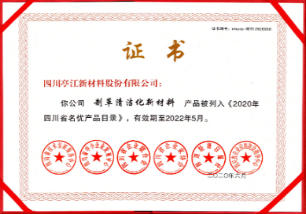 Headquarters: Haiwei Section of Guangzhu Highway, Shunde District, Foshan, Guangdong,China
Sales Tel:+86-757-28392207
Fax:+86-0757-28396980
E-mail:lizs@dymatic.com
Technology Service:+86-0757-28399088-185
Fax:+86-0757-28373883
E-mail:yanlan@dymatic.com